Le Dupont Torkies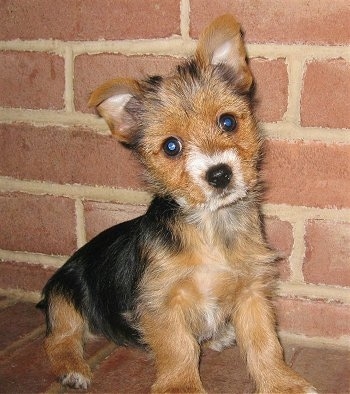 Honest to God, until Angelo came up with the picture at right, I thought that "Torkies" was either a made-up word or some kind of derogatory term for a well-dressed man. Instead, I've learned that it's a code for some sort of Frankendog made up of parts of a Terrier, parts of a Yorkie, and probably parts of the biggest dog of them all,
Heathcliff Slocumb
.
Once my ignorance was made clear, I did a little research to see how far I had strayed from the mean level of cultural literacy. As a guy who makes his living (metaphorically speaking) on random cultural references, I was afraid that I had fallen irrevocably behind the curve.
You can imagine my relief, then, when I Googled the word "torkies" and found that
this very blog
was returned as the
7th-most relevant site
. (Please bear in mind that, despite its name, this blog is only the
3rd
-most relevant site for on the web for
gowanus+baseball
.) While we here at the GRBG are proud of and grateful for the modest readership we've put together thus far, the notion that we are among the top ten repositories of Torkie knowledge on the web evokes in us a strange combination of humbleness, bafflement, and alarm. We can only hope that the GRBG will continue to serve as a beacon for Torkie lovers everywhere and pray that, in God's own time, we'll crack the Top Ten for
Enrico Palazzo
references as well.
So, what was I talking about again? Right, right, the other team in the league that always wins. Well, they'll probably be good again this fucking year. The franchise was forced to shed a lot of talent in the offseason following a bunch of acquisitions of upcoming FAs during the stretch run last season. The team responded by taking on a lot of risk in the preseason, especially on the pitching side. Some of that risk has already paid off, as
Jon Papelbon
has been moved back into the closer's slot, where he should hold down the fort for the next decade or so.
Infield
Here's the first sign of a drop off from last year's squad, with stud 1Bs Adam Dunn and Mark Teixeira replaced with Ryan Shealy, a guy who projects as a sort of evolutionary Brian Daubauch. Backup Dan Johnson might well snake this spot, as he was banged up nearly all of last season, and has a bunch of 1B/DH PAs to himself this year in Oakland. However, I like SS Jhonhnhy Peralta for a bounceback this year, as he apparently played all last year with blurred vision that was corrected by offseason Lasik surgery. The rest of the IF/UTIL is dominant with Travis Hafner, Chase Utley and Alex Rodriguez around.
Outfield
This unit is anchored by ex-Phil Bobby Abreu, who has set off on one of the odder late-career roto paths in history. Unlike most older corner OFs, Abreu has kept his speed (30 SBs last year) while losing his power (15 HRs) . The HR drop came despite playing last year in Philly and Yankee Stadium, two of the best HR parks in baseball for left-handed hitters. Abreu's OBP and R RBI totals should stay level at worst with a full season in New York. It will be interesting to see, though, whether the Yankees send him on the basepaths as often as Philly did, especially since Abreu is more likely to have a power bat behind him in New York. If Abreu's SB total drops down to 15 to match his HRs, he'll go from a cornerstone OF to a complementary player.
Raul Ibanez and Chris Duffy round out the OF. In the wake of Duffy's trade to the Dodgers, both are OK players stuck in unfavorable hitting environments that limit their value. Brad Hawpe provides more punch but no speed, which puts even more pressure on Abreu to keep running.
Pitching
The staff is based around veteran innings-eaters John Smoltz, Curt Schilling, and Fab Five Freddy Garcia. You can pencil those guys in for good counting stats if only because they're very good about taking the ball every 5th day. However, the fortunes of the team will really rise or fall based on its two Tremendous Upside youngsters, Dick Harden and Rich Hill. Nobody's ever questioned Harden's ability, but he has missed significant chunks of time over the course of his major league career. Hill posted a fantastic K rate last year, but one that was well out of line with his minor league history. If both of these guys come through, the Torkies will be right back near the top. If both flame out, the fantasy replacement level guys who come in will sink the rotation. Given the year to year volatility of pitchers generally, I like the approach of getting the highest-upside guys you can find, and hoping that you can beat the house and see them through to the end of the season healthy.
Now that Papelbon is back the bullpen is in OK shape to start, with Bob Wickman and Todd Jones around to rack up Saves and Heart Attacks Induced in roughly equal measure. But with both Jones and Wickman clearly less talented than their backups (and with those backups already taken by other teams in the league), any dip in form will lead to a benching and a need for the Torkies to plug the gap.
Prognosis: Probably the toughest team in the league to handicap. Tons of talent; even more risk. I'll split the difference and say they end up in the first division, but out of the money.