For the first time this year, we get an actual deal to analyze, and not just make snide comments about picking up the second coming of
Dave Magadan
from the scrap heap or discussing dealing middling relievers for picks. I thank Tucker & Ironhead for making this possible, and encourage others to do the same. Teddy, have you recovered from a trip full of Newcastle & Bordeaux? (El Angelo)
I walked about five miles a day in London and Paris and still came back fatter than when I left. Pick on the French all you like, but any society that orders itself in a way that allows access to
fantastic fresh bread for 1 euro and a functional bottle of wine for 6 euros is a society that has something on the ball.
Also (honestly), I had some fantastic frogs' legs for dinner my last night in Paris. I now regard
Doc Hopper
as a visionary genius. That realization, combined with my long-time love of bacon, is going to make for an interestingly revisionist viewing experience the next time the
Muppet Movie
shows up on cable. After all, it's tough to root for the romantic protagonists of a film when you secretly want them disarticulated and pan-fried for your enjoyment. (Teddy)
b. mcbeef goldthwait
Signed Chuck James, SP, Atlanta [5/17]


.

Traded Magglio Ordonez, OF, Chicago (AL) and Bobby Jenks, RP, Chicago (AL) to Le Dupont Torkies for Jhonny Peralta, SS, Cleveland; John Smoltz, SP, Atlanta; Chad Gaudin, SP, Oakland and Noah Lowry, SP, San Fran; Released James and Ivan Rodriguez, C, Detroit [5/18]


.

Released Shawn Green, OF, New York (NL) [5/21]


.

Relocated team from Brooklyn, New York to San Francisco, California [5/28]
Pour some out for the e.e. cummings all-stars, as they move 3000 miles to the left coast in search of better legal opportunities in the world of compliance litigation. In their wake they leave a blockbuster trade with the defending champs. I'm normally a bit reticent on taking back 4 players for 2 because of the added cost of waiving a pair of guys, but one of them was
Chuck James
, who isn't very good, and the other is
Pudge
, who's wholly unnecessary to the rebuilding plan here. So given that the other two roster spots were for all practical purposes unused, we have the addition of a great bounce-back candidate in
Jhohnhnhy Peralta
and a troika of pitchers for a volatile closer and an aging outfielder. I actually like the detail work of getting Lowry & Gaudin as staff filler, as they blend in perfectly behind
Matt Cain
and are actually the kind of pitchers you need to compete as middle-of-the-rotation fodder. All of a sudden, this team isn't far away. (El Angelo)
Hey, that NYC-to-SF move worked out great for the Giants, right? Look how many championships they've won since they moved! I confess to being uncertain about
John Smoltz's
contract status; if he's more than a one-year rental I really like the move. If nothing else, Peralta benefits from kicking around that Cleveland lineup, and I have a well-known bias for up-the-middle players over OFs. For this year it doesn't really solve much, because the team has just swapped a hole at SS for a hole in the OF. But looking forward you assume that it will be easier to find an effective OF in the draft next year than it will be to find an above-average SS. (Teddy)
Ed Rooney's Office
Signed Jay Witasick, RP, Oakland; Released Heath Bell, RP, San Diego [5/16]


.

Signed Tony Pena, RP, Arizona; Released Witasick [5/28]
Please tell me this was merely you trying to get into the TA. More importantly, what the fuck was
Jay Witasick
doing on your roster to begin with? (El Angelo)
The Witasick Era was brought about by the injuries to
Huston Street
and
Justin Duchwhatever
in Oakland. Somebody had to pitch the 9th, and I gambled on the mediocre Witasick over the disappointing Kiko Calero and famed teen actor
Ethan Embree
. Somehow Embree appears to have gotten the job. That is only slightly less likely than Embree's previous career peak of getting paid to make out with
Jennifer Love Hewitt
on film before she started down to slippery slope to her present ferret-facedness. (Teddy)
Hand Banana
Signed Carlos Gomez, OF, New York (NL); Released Pat Neshek, RP, Minnesota [5/18]


.

Called up Tim Lincecum, SP, San Fran from the prospect list, Signed Carlos Marmol, RP, Chicago (NL); Released Jon Lester, SP, Boston and Gomez [5/20]


.

Signed Antonio Alfonseca, RP, Philly; Released Marmol and Lyle Overbite 1B, Arizona; Fooled around with Ryan Madson, RP, Philly [5/24]

A rare bit of poor results on the roster from the '05 champs, as they end up with less than they started. Sure, that's offset more than a little by the ability to get Lincecum on the active roster, but I have to think they'd still like to have Jon Lester pocketed away on the disabled list, and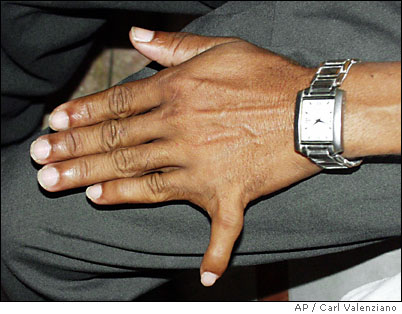 maybe Gomez as well, rather than have run through all the other poor options known as the Philadelphia bullpen. And in the end they're stuck with Antonio Alfonseca. If Val were alive, I'd ask him the lyrics to Six Digit Sam vis-a-vis Alfonseca, but I'm not in the mood. (El Angelo)
It's the oldest joke in the book at this point, but I'll break it out again anyways: Alfonseca is twice as good as
Three-Finger Brown
. There's a chance that HB is fighting too hard to get saves--he's already out ahead of most of the pack, and the incremental value of another crappy closer might not be worth it at this point. Still, it's early, so trying to pile up counting stats is defensible. (Teddy)
It's Enrico Palazzo
Claimed Justin Duchsherer, RP, Oakland off waivers; Released Mark DeRosa, Jack of All Trades, Chicago (NL) [5/17]


.

Released Jeremy Sowers, SP, Cleveland [5/21]

Jeremy Sowers is the poster boy for guys who look like they should be great pitchers but whose peripherals are so hideous that it's bound to catch up with them eventually. Credit to the Fourth Tenor for figuring out that now's the time to cut bait. If you don't strike anybody out, the best case scenario you can hope for is being Bob Tewksbury or Kirk Rueter. Owners of Chien-Ming Wang and John Maine should be equally frightened. (El Angelo)
The Duke pickup is an interesting one. Latest word has his hip injury as being more serious than originally thought, so this might turn out to be a waste of a waiver priority. Still, with Street out of commission it's a decent risk--the Duke has been just on the wrong side of usability in the league the past few years, but with regular acceess to saves he'd be a really nice commodity. Beats the hell out of gambling on
Jay Witasick
. In other news, what was
Mark DeRosa
still doing on a roster? The guy gave me a
Natty Light
at his frat's rush event back at Penn and I still won't even play him on the bench. (Teddy)
Le Dupont Torkies
Signed Carlos Ruiz, C, Philly; Released Ben Gay Molina, C, Anaheim [5/18]

Traded Jhonny Peralta, SS, Cleveland; John Smoltz, SP, Atlanta; Chad Gaudin, SP, Oakland and Noah Lowry, SP, San Fran to b. mcbeef goldthwait for Magglio Ordonez, OF, Chicago (AL) and Bobby Jenks, RP, Chicago (AL) [5/18]
Signed Jonathan Sanchez, SP, San Fran and Bobby Crosby, SS, Oakland [5/19], Chris Duncan, 1B/OF, St. Louis; Released Raul Ibanez, OF, Seattle [5/20]
Signed Pat Neshek, RP, Minnesota [5/22]
Claimed Jon Lester, SP, Boston off waivers; Released Sanchez [5/23]
Signed Sergio Mitre, RP, Florida and Justin Germano, SP, San Diego; Released Nashek and Carlos Villanueva, SP, Milwaukee [5/27]
Signed Ryan Garko, 1B, Cleveland; Released Brandon Lyon, RP, Pittsburgh [5/27]

History in this league has shown time and time again that starting quickly is the kiss of death, and now that the Defending Champs have slipped into 2nd place, you have to wonder whether they're going to follow the fates of the many other pace-setters that came before them. If they do, it certainly won't be for lack of effort. Magglio! Ordonez is an obvious win-now guy on a fricking tear, but I have to say that the tarriff given up was fairly steep---3 solid pitchers to make up a staff. Now, it did enable them to sign (eventually) Jon Lester, who's a nice call, and Bobby Crosby, who sucks, but while I don't think it was a bad trade, it's definitely in the order of getting ducks in a row for a stud and a closer. And it still doesn't solve their biggest problem; namely, the revolving door at first base and getting Joe Mauer back in the lineup. If both of these are solved, though, this team is still the one to beat. (El Angelo)
Unless Crosby reverts back to 2003 form, I wonder whether the trade opens up a worse hole at SS than it closes in the OF. The Torkies biggest problem is that there isn't really a specific category in which they're struggling, which makes it tough to go out and get specific patches. That's part of the curse of any good team, of course, but it seems to be especially true here. The current weak points are at K (a category you can't really individually target), and SB (here I shamelessly note the presence of
Juan Pierre
on my roster . . .). (Teddy)
M**e
Signed Jarrod Washburn, SP, Seattle; Released B.Y. Kim, RP, Colorado [5/16]
.

Released Washburn; Signed Jon Lieber, SP, Philly [5/17]
See, these are how transactions should work--you progress from the worst player (Kim) to the best (Lieber) with a stop-over on an execrable mediocrity (Washburn). Stop making sensible transactions Mike, you're killing our ability to make snide comments. Well, except for the fact that if
Jon Lieber
is your saving grace, you're probably in trouble. (El Angelo)
I dunno--while
Jarrod Washburn
objectively sucks, he's riding another run of great BABIP results to some fun numbers so far this year. He and
Derek Lowe
seem to alternate flukishly great years, and this might be Washburn's time to shine. Spot him in starts in that big ballpark in Seattle and he's a useful piece. (Teddy)
Nigerian Gentlemen
Released Annibal Sanchez, SP, Florida [5/21]


.

Signed Scot Shields, RP, Anaheim [5/27]


.

Signed Jeremy Guthrie, RP, Cleveland; Released Taylor Tankersley, SP, San Diego [5/28]

While normally I don't give a thumbs up to the inking of relievers, I have to applaud taking Scot Shields here, who I could've sworn was already on someone else's roster. (Doing enough of these makes these guys jumble up sometimes into a moray of Crappyreliverwhomaycloseifpigsfly.) Shields is good enough to close for about 1/2 the teams in baseball, may actually get a spot start need be, and will get a bunch of vulture wins and saves over the course of the year since Scoscia actually knows how to use him. Unlike Joe Torre, who I think hasn't been told yet that Nelson and Stanton aren't on his roster because there are no names on the flip side of Yankee uniforms. You know what's bad about watching the Yankees suck it up this year? Not a goddamn thing. (El Angelo)
Ang, never, EVER talk about an in-progress no hitter. Repeat after me: that team is too good to play this way for long. Clemens and Hughes will turn things around. Derek Jeter smells like kittens and sounds like rainbows. Etc., etc. (Teddy)


President Skroob
Signed Ryan Shealy, 1B, Kansas City and Mark Reynolds, 3B, Arizona; Released Chad Qualls, RP, Houston and Felix Pie, Chicago (NL) [5/26]


.

Added Ryan Braun, 3B, Milwaukee to the active roster [5/28]

.



Traded Kevin Greggggggg, RP, Florida to The Sex Cannons for Andrew Miller, SP, Detroit [5/29]
Out with the crap that's useless and in with the crap that has some upside if they drink the right elixirs. Ok, I realize that Ryan Shealy is unlikely to be a star, but there's nothing to say he can't get hot and have a somewhat useful season. At a minimum, he's no worse than fungible commodities like Dan Johnson & Lyle Overbite. By contrast, Andrew Miller is gonna be good, though for now, it leaves me with a fantastic AAA pitching squad of him, Homer Bailey and Matt Garza, all guys who should be pitching in the majors, dammit. Lastly, I personally send a muchas gracias to Doug Melvin for finally calling up Ryan Braun, despite previously having no productive 3B on the roster. Tierra del fuego! (El Angelo)
I love the trade--Miller is a huge stud, and there is abso-smurf-ly no way that Gregggg was going to help this ballclub this year. It's going to be an interesting keeper season for Angelo, who needs to start praying that these kids get called up soon so that he can start separating the wheat from the Ryan Shealy. (Teddy)
The Sex Cannons
Signed Jason Berggmann, SP, Washington [5/16]

.



Signed Hank Blalock, 3B, Texas and Andrew Miller, SP, Detroit; Released Melvin Mora, 3B, Colorado and Berggggmannnn [5/17]

.



Released Blalock and a rib; Signed Reggie Willits, OF, Anaheim [5/18]

.



Signed Alan Embree, RP, Oakland; Released Jon Rauch, RP, Washington [5/20]

.



Traded Miller to President Skroob for Kevin Gregggggg, RP, Florida [5/29]
This all turned out much better for the Grossmans than could be expected. When your transactions start off with picking up the nominal stopper in the Nationals rotation and the Rapidly Declining Hank Blalock, you have to start thinking that you're grasping at straws. The best think that could've happened frankly was Blalock's ribectomy, as at least it netted Reggie Willits, who's a shitty bet to keep up this torrid pace but may at least be useful in that lineup. The Miller card was played pretty well as he turned into Kevin Greggggg; he's closing for now, but query whether he's going to be of any use after '07. Also, nice to see Embree complete a quinfecta of shitty Oakland pitchers in this week's TA. Can Billy Taylor be far behind? (El Angelo).
This is a really aggressive win-now move by the Commish. Frankly, I fail to see how Gregg is any better than Embree, and all the Embree pickup cost was a tiny bit of self-respect. But hey, this TA will mark the first-ever edition published with the Commish in first. So who am I to judge? (Teddy)